In the Pyrenees again. And again a nice tour with Marcellus and Extreme-Tours.
End of September promises nice and to too chilly weather. And the Pyrenees promise empty roads, breathtaking views and good Spanish and French food.
We ride 1430 miles (2300 km) in six days and climb 29 miles (47 km).
Riders are Marcellus, Achim, me (Tom), Marcus and Beat.
We start our tour after two days of travelling there. The day is for the Mediterranean Sea with a great coastal road, palm trees and warm weather.
We get ready in the morning
Marcellus stores the chocolate box - as usual stuffed by Beat
Cerbère. We stop here for the view to the coast line.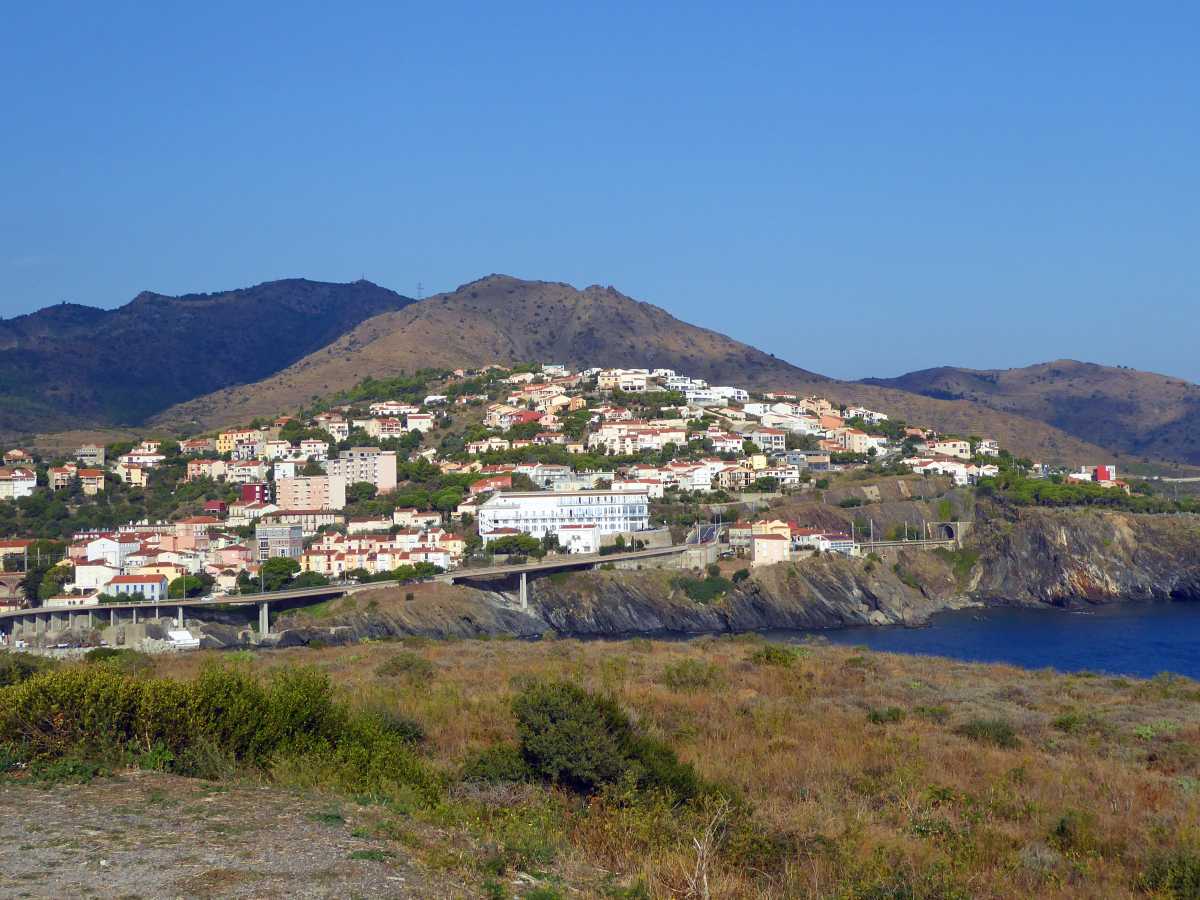 Coast line
The bikes are waiting
Coffee break at the shore in Roses. We are already in Spain
Palm trees
We see the
Wind Surf
, one of the largest sailing cruise ships in the world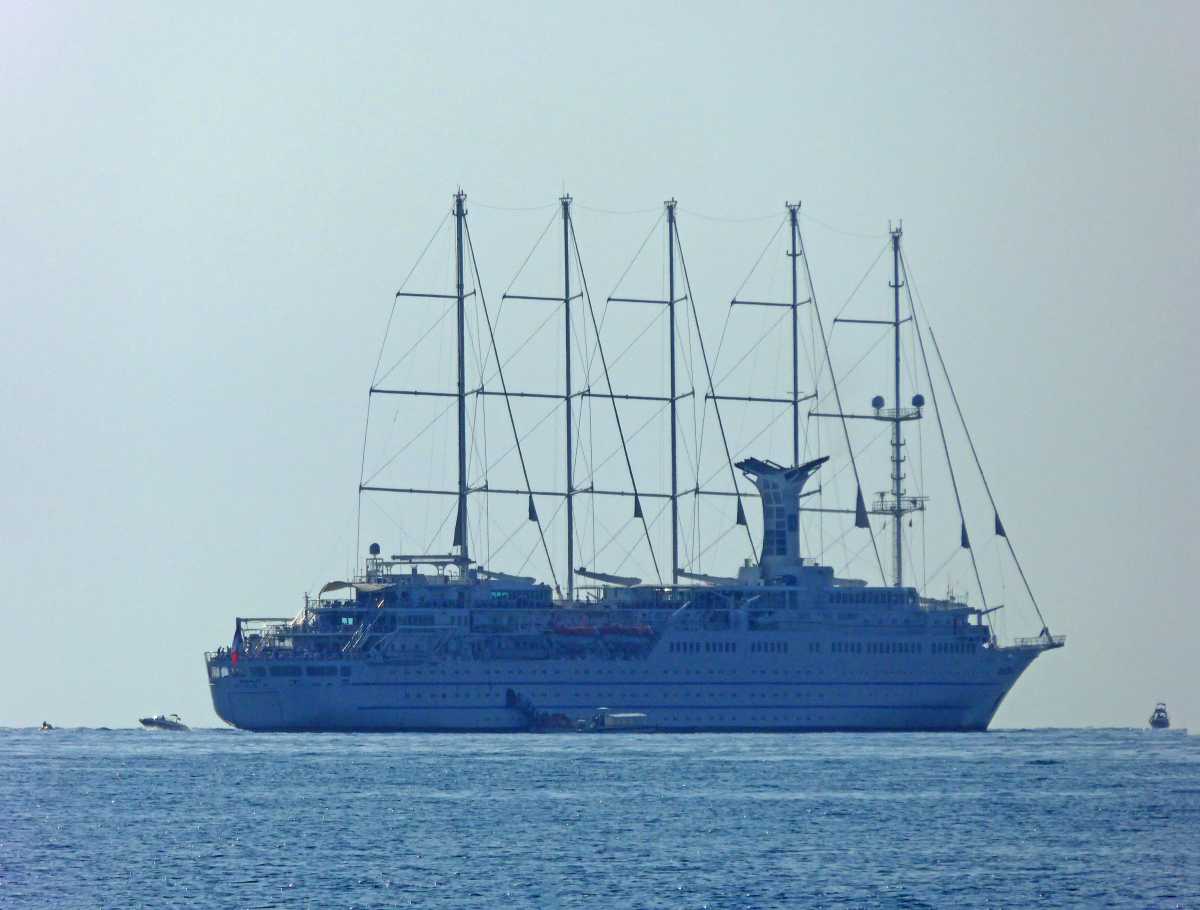 Another stop on the coastal road
Riding the coastal road
We turn into the mountain and have a gread view at Alt de la Trona



Dinner in Puigcerda is a very delicious Paella
Today we go to France, Andorra and then back to Spain. The day starts chilly and then it gets quite cold on the first pass. Then we find the sun.
Scenic view from the hotel in Puigcerda in the morning
Sun is shining but it is cold.
I stop at a thermal solar power plant. I went ahead but the group does not show up. They went to another one. We did not realize that there are two different ones close to each other. I will find and join the group again later in the day.


The parabolic reflector
The primary reflectors
A vaporizer
We go over Col de Pailhères
It is quite cold.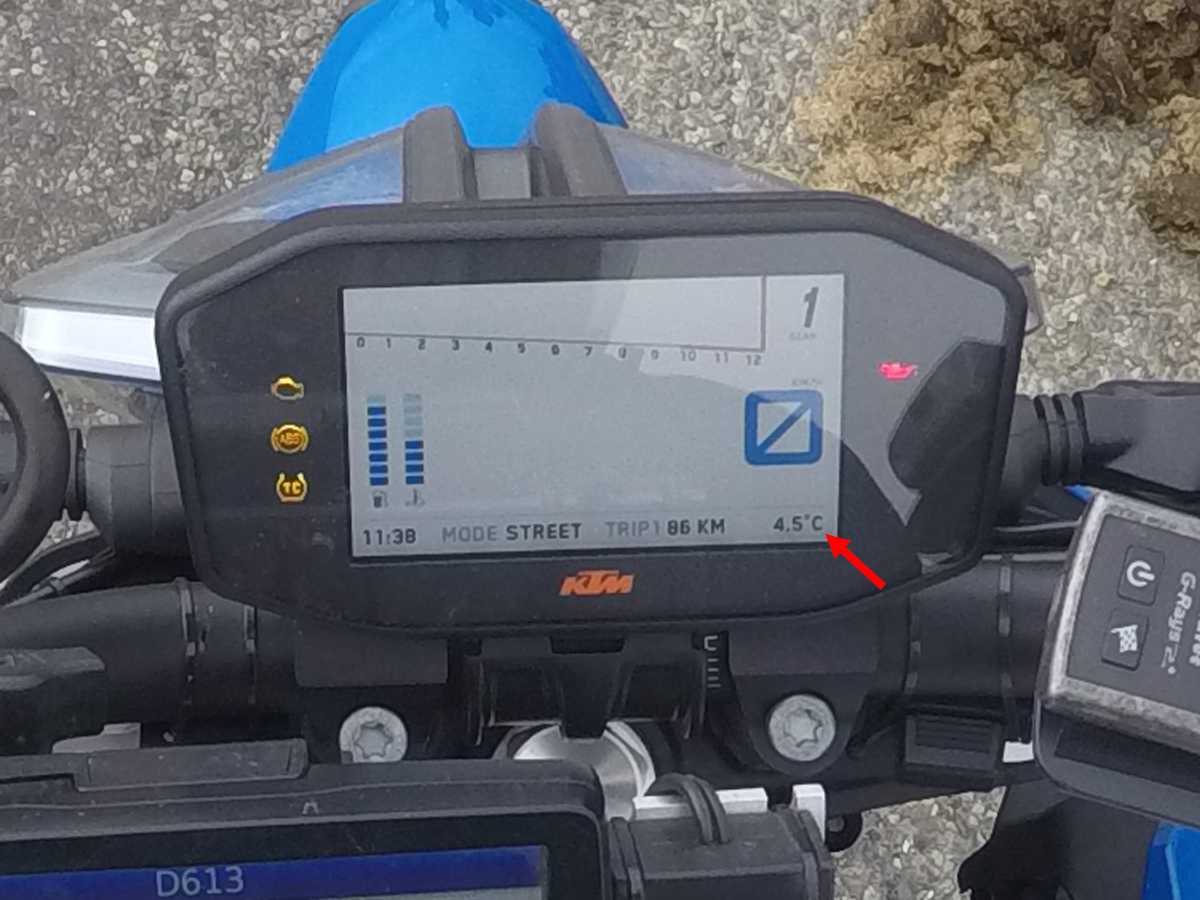 The ride over Col de Pailhères
In Andorra we stop at Col d'Ordino
Back to Spain we stop at Port del Cantó
View at Port del Cantó


A coffee break in warm sun
We arrive in Benasque.
Today we follow the traces of Tour de France onto the higher passes of the Pyrenees.
It is quite cold. I get a warning for freezing temperatures in my GPS. But it will warm up later on.
We get into France via Col du Pourtalet
Col d'Aubisque


The gang: Marcellus, Achim, Tom, Marcus, Beat
Good lunch on top of Col d'Aubisque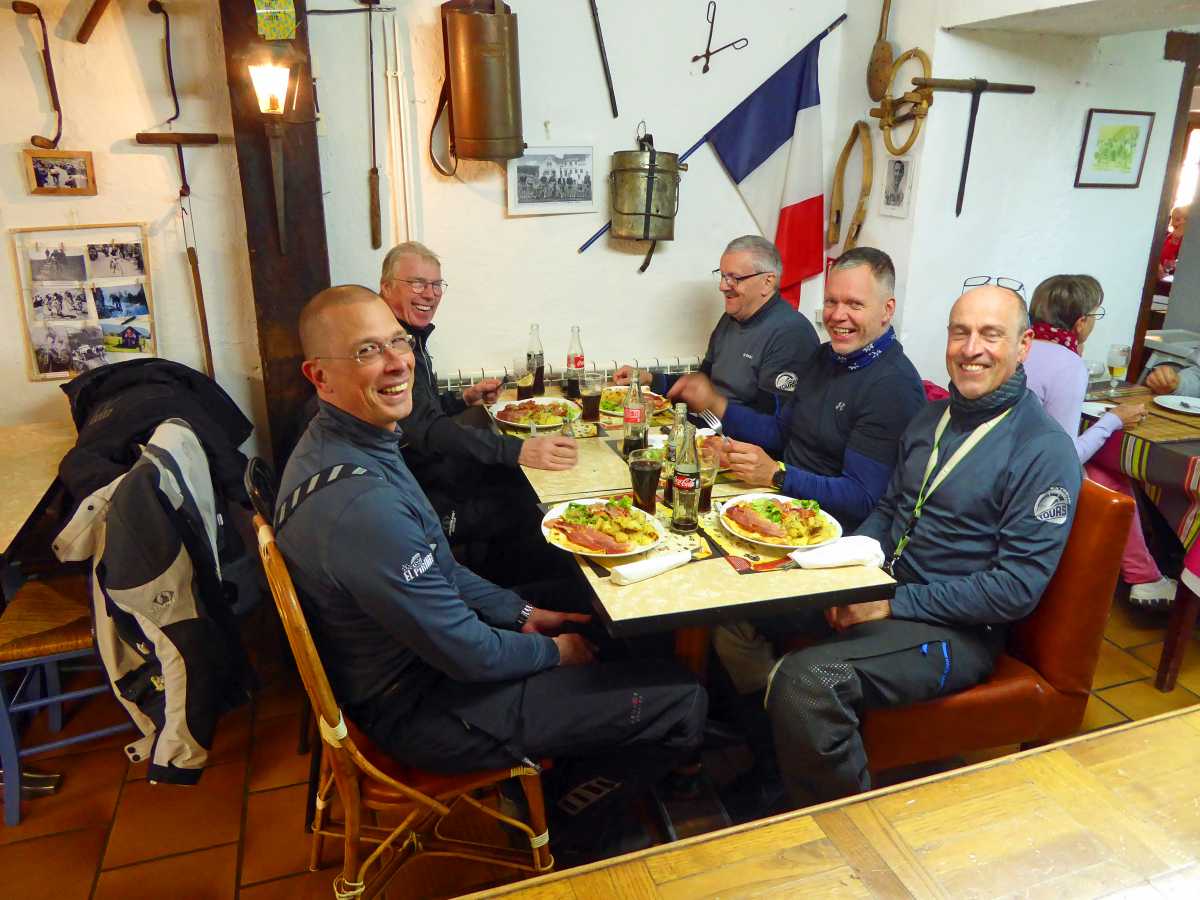 The most famous pass of the Pyrenees
Col du Tourmalet
Col du Tourmalet


Col du Tourmalet


Lamas?
Cows on Col d'Aspin
We are not the only riders there
View on Col d'Aspin


Today we stay in Spain. It gets warmer and we find many twisty roads.
At the first coffee break. Marcellus buys Spanish ham
We try the ham. Tastes good.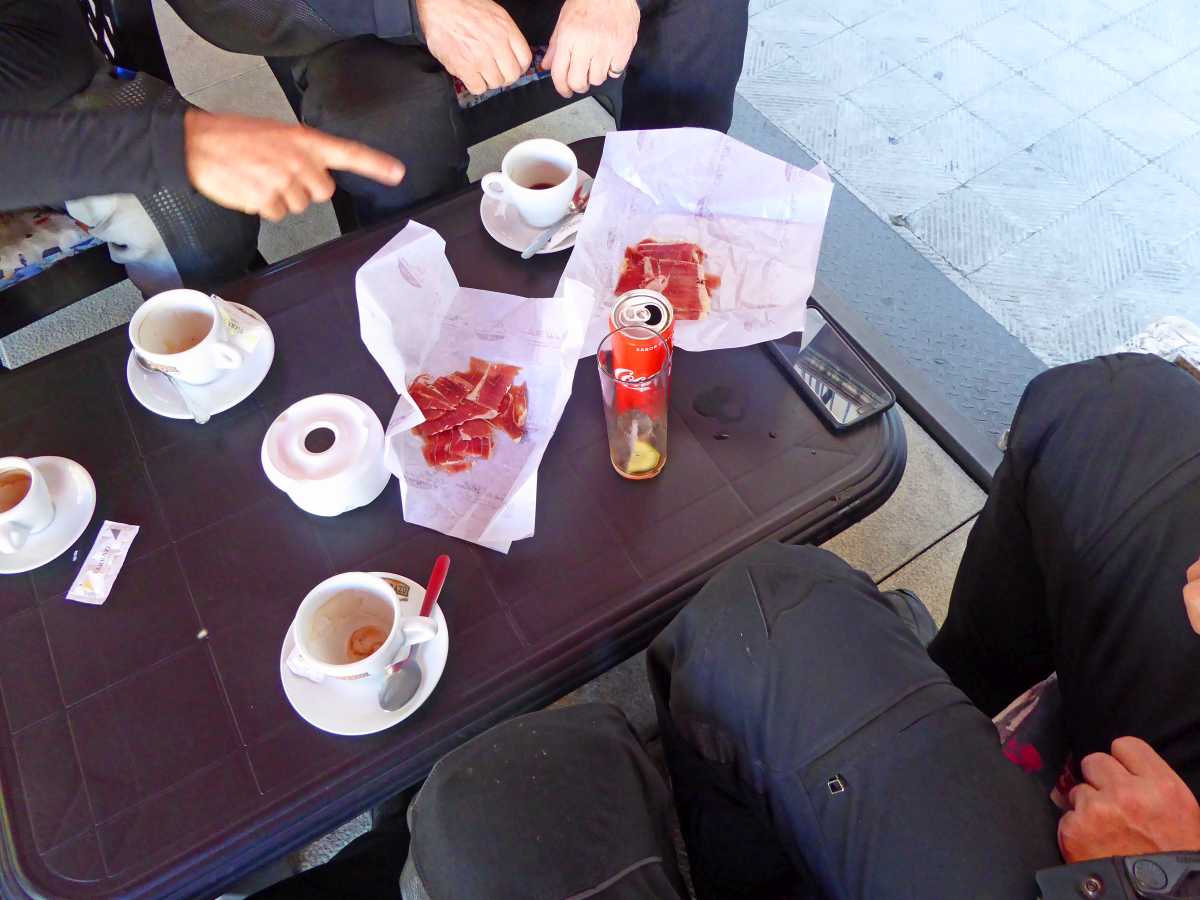 We have to stop at this sign before Coll de Bóixols. It announces 22 miles (35 km) of turns.
Coll de Bóixols


Coll de Bóixols
Coll de Bóixols


The group on Coll de Bóixols: Marcus, Tom, Achim, Marcellus, Beat
We proceed via Coll de Jou
Coll de Jou
We have lunch in La Cantina de Llinars and get original Spanish food.
Viewpoint Mirador de la Trava. In a distance our destination for the day La Seu d'Urgell
We are not alone
The hotel in La Seu d'Urgell
We ride more southern on empty roads and enjoy scenery.
We ride Coll de Bóixols again.
Coll de Bóixols
Coll de Bóixols
Later on we proceed on an empty country road which allows for faster riding.
For a coffee break we stop close to Oliana. Find this church in the panorama below it.
View to Mountains close to Oliana


The restaurant we stopped for a coffee revealed a surprise. It is owned by Isidre Esteve Pujol, a former Paris Dakar rider.
We wanted to have lunch in Cal Majoral but arrive to early and proceed.
We have lunch in Ripoll
On Coll de Creueta we find this view to the mountain village Castellar de n'Hug
Coll de Creueta
La Seu d'Urgell in the evening


For dinner we have Spanish food again.
The last day. We return to our starting point in France at the Mediterranean Sea. But during the day we will go from Spain to Andorra, to France, to Spain and to France again.
La Peguera in Andorra in the morning. The valley is still in the shade.
I had to have a flight at the viewpoint Mirador Roc de Quer on Col d'Ordino


Col d'Ordino
We pass the thermal solar power plants again.
Thermal solar power plant


Thermal solar power plant



The other thermal solar power plant
We have lunch in the same restaurant in Ripoll as the day before
Coll d'Ares at the border between Spain and France. The view back to Spain


Coll d'Ares
Coll d'Ares - view to France


The Mediterranean Sea in a distance. The tour comes to an end
The Catalonia conflict is visible everywhere. Yellow ribbons everywhere signal the request for independence from Spain
The Pyrenees are quite far away. I needed two days to get there and two days back
First I had to go all across Germany to Marcellus in Riederau close to Munich. I passed Riedenburg on my way.
The bikes got loaded onto a trailer
In Switzerland we picked up Beat. His sister cooked a dinner for us. Then we proceeded all through the night to Thuir
We arrived in Thuir in the morning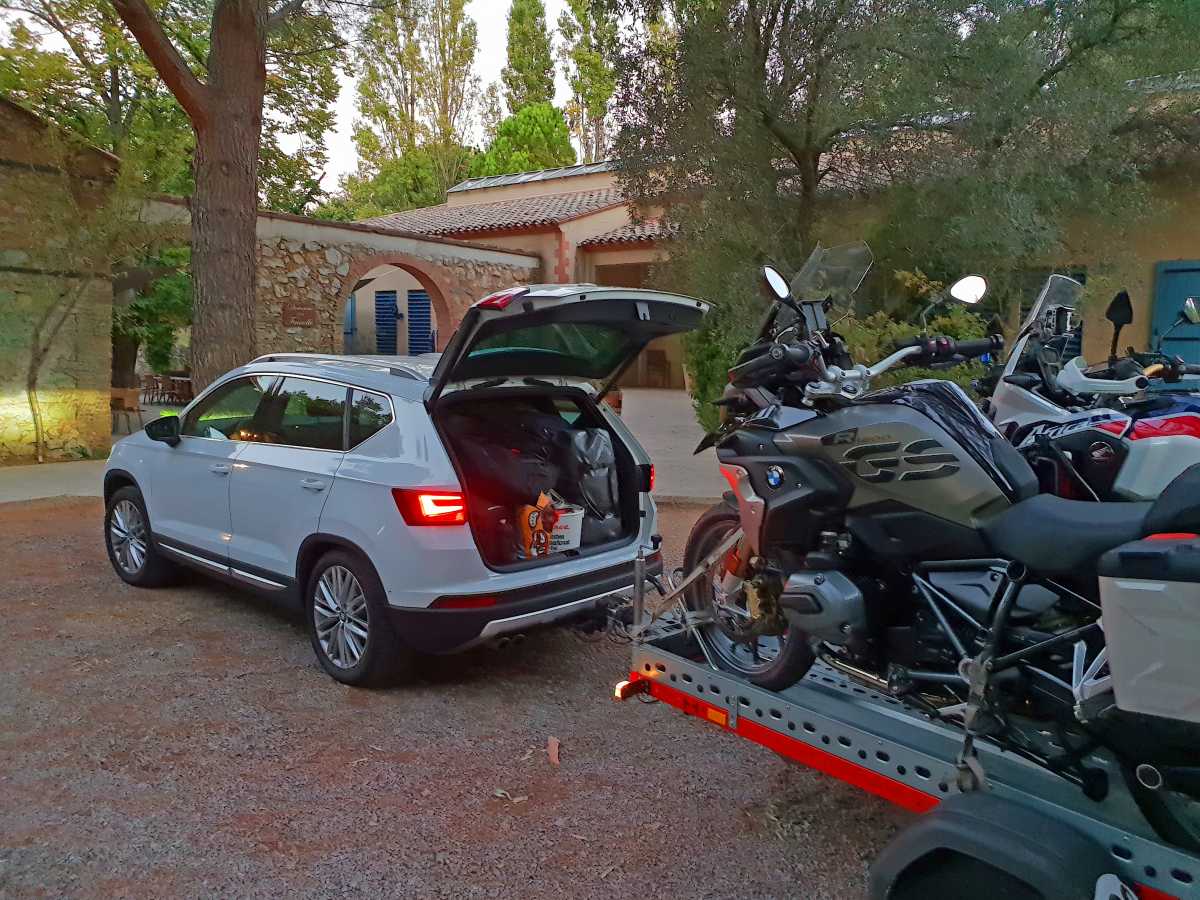 Sunrise in Thuir
Breakfast in the hotel
After a nap I visited the liqueur factory Byrrh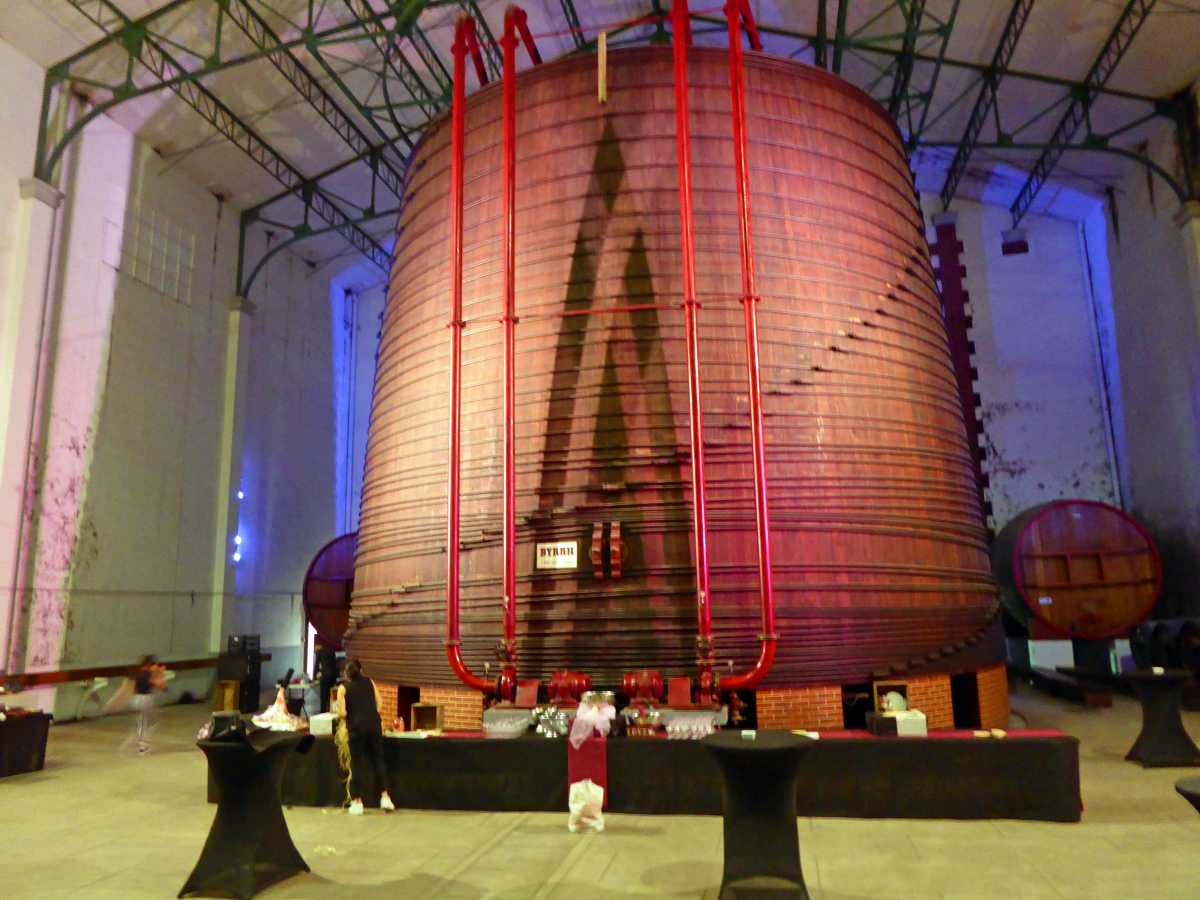 I return to the hotel through the narrow lanes of Thuir
The journey back starts as the journey to Thuir has ended. We start with the sunset
Farewell to Marcus
During a stop I noticed the difference in height of the bikes
We have dropped off Beat. His sister cooked a nice dinner for us again. Late in the evening we are back to Riederau. I stay overnight.
The next day I return to Berlin. On my way I find the fall colors in the valley of river Altmühl.
I have compiled all the more than 1700 pictures in chronological order into a little video